On Tour: The Garfield Memorial in Cleveland
A neo-Byzantine monument to America's forgotten president
In each installment of "On Tour," The Usonian takes a look at a cool place in a different corner of the world. This week, in a belated post for Presidents Day, we visit the Garfield Memorial in Cleveland, a spectacular monument for a forgotten American president.
---
A cemetery tells the story of a city's past. If you go to the Cemetery of Père Lachaise in Paris, for example, you'll come across the tombs of Edith Piaf, Oscar Wilde, and um—Jim Morrison.
When you're talking about a city that has already "peaked," then the cemetery is a view into its hey-day. The rust-belt city of Cleveland, Ohio, is one of those cities—at end of the 19th century and during the early 20th, Cleveland was one of the major centers of American life—in 1926, it was America's fifth largest city. Today, it's the 54th.
As such, the Lake View Cemetery in Cleveland is the final resting place of 1930s celebrities—G-Man Elliot Ness and oil magnate John D. Rockefeller. It's also the home of the ornate Garfield Memorial, the tomb of one of America's forgotten presidents, whose assassination in 1881 stunned and united a grieving nation. Intriguing for this newsletter, the memorial was designed in a neo-Byzantine style, with Orthodox saints swapped in for secular depictions of Americana.
The Tomb
The Garfield Memorial, completed in 1890, looms large on a hill within Lake View Cemetery. Above the door is a neoclassical frieze depicting important moments in Garfield's life. Step inside, and you'll find a large statue of the president, an atrium which opens up stained glass personified portraits of each U.S. state, and a magnificent gold-mosaic dome. Instead of depicting saints, the mosaics depict regions of America based on cardinal directions: The West, the East, the South, and the North. Walk downstairs, and you'll encounter the caskets of President Garfield and his wife, Lucretia, permanently lying in state, the American flag draped over his coffin.
And by this point you might be wondering, just who was President Garfield?
And that's a very good question.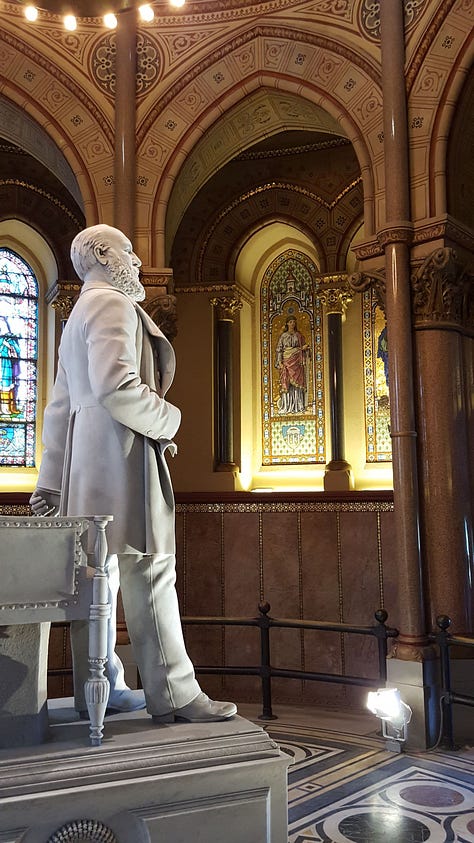 The unbelievable career of President Garfield
In American history, four presidents have suffered the fate of assassination in office—Abraham Lincoln, James Garfield, William McKinley, and John F. Kennedy. Garfield's assassination was an added shock, since he had only been recently inaugurated in 1881 when he was shot at a Washington, D.C. train station by a deranged assassin. While the bullet did not kill Garfield, he died several months later of infection.
His brief presidential career belies his interesting biography. Garfield was sort of like a combination of a real-life Matt Damon in Good Will Hunting and Jimmy Stewart in Mr. Smith Goes to Washington. Born in 1831 in Ohio to a dirt-poor family, Garfield's father died at the age of 2, and he made do by working on canal boats. Attaining some academic education at a seminary, he worked as a janitor à la Will Hunting at Western Reserve Eclectic Institute (today's Hiram College) before getting an adjunct position. Somehow, he leveraged this foothold into admission into Williams College in Massachusetts, and returned to Western Reserve Eclectic Institute as a classics professor, before his elevation to president of the school in less than a year.
In 1859, he was elected to the Ohio Senate as a Republican, then the party of abolition. He joined the Civil War on the side of the Union, becoming a brigadier general and later major general. In 1862, President Lincoln asked him to resign from the army to run for U.S. Congress representing Ohio, which Garfield did, and he won the election, maintaining the seat through nine election cycles
Presidential elections worked differently back then, as the parties had local delegations meet and vote on a national candidate during the national convention (as opposed to the modern primary campaign). In the Republican National Convention of 1880, Garfield gave the nomination speech for his ally, John Sherman, but his speech was so popular, that on the 36th ballot, Garfield was unexpectedly chosen as the consensus candidate and the nominee for president. Garfield ended up beating his Democratic opponent by only 10,000 votes, but he won. Mr. Garfield was going to Washington.
With high ideals, and the moral high ground of being the person thrust in power who did not expect it, Garfield's administration seemed intriguing, full of possibility.
Then came Charles Guiteau.
Assassination and aftermath
Charles Guiteau was one of those guys who just couldn't figure it out. A former member of the Oneida Commune in New York (an early example of a "free-love" movement, in which the unlikeable Guiteau was frequently rejected by his sister wives), Guiteau moved from scheme to scheme, a delusional and alienated type whose existence seems to recur a lot over the course of American history. Basically, Guiteau was the 19th century version of Robert DeNiro's character in Taxi Driver.
When Garfield was elected president, Mr. Guiteau believed that Garfield owed him a diplomatic post. Back then, the civil service was governed by the spoils system—that basically everyone in the executive branch of government, from the appointee to the secretaries on down, were replaced by political loyalists to each president. This huge turnover represented huge opportunity for a political operator. And Guiteau deluded himself into believing that it was he who was responsible for Garfield's narrow victory. When Garfield didn't grant him a consulship, Guiteau decided to kill the president.
Guiteau shot Garfield in a D.C. train station, in the present-day location of the National Gallery of Art. Garfield didn't die immediately, but his doctor (Lincoln's) relied on old-school medicine, despite the fact that modern sanitation was available at this time. Alexander Graham Bell invented a metal detector to help locate the bullet. Garfield died of infection a few months later; Guiteau was sentenced to death and executed after a highly publicized and bizarre trial.
I first learned about Garfield and his assassination in depth in Candice Millard's wonderful work of narrative history, Destiny of the Republic: A Tale of Madness, Medicine, and the Murder of a President (Anchor, 2011). In her book, Millard argues that Garfield's assassination was one of the first events after the Civil War that united the country. Much like Pearl Harbor, the Kennedy assassination, or 9/11, the national tragedy brought the nation together as Americans waited on the news of Garfield's prospective recovery. As a president who was a self-made man and not born to wealth, he was relatable in a way that many of his predecessors and successors were not. Even in a time of social injustice for women, African Americans, and so many others, Garfield's rise suggested that maybe the U.S. was—or might be—a place where anyone could become president.
His death also motivated the passing of the Pendleton Act of 1883, a law which ended the spoils system and established the modern civil service in federal government. The federal government became a professional class, ushering in the modern era of federal bureaucracy.
The Garfield Memorial was finished in 1890, built through the funds not of corporate donors, but by popular subscription. Garfield was well-loved.
Wait, but why does the memorial look like a Byzantine church?
The late 19th century was a time of neoclassical fervor in American architecture. The 1893 World Columbian Exposition in Chicago showcased a "White City" depicting America as the inheritor of Western civilization; meanwhile, the City Beautiful movement raced to build train stations and public buildings that looked like Greek and Roman temples all over the nation.
Similar art to that of the Garfield Memorial—depicting American states and regions as Hellenic and Roman gods—can be seen all over monuments in Washington, D.C., like at Union Station, and in other cities across America. While our values have evolved, and many depictions have not aged gracefully, this chapter of American architectural history greatly informed our built environment—and our nation's self-image—for better or worse.
An Irish architect named George Keller designed the Garfield Memorial. Working at the New York firm of Peter Wight, Keller learned about the design philosophy of John Ruskin. Keller ended up designing neoclassical monuments at Gettysburg and in Hartford, Connecticut. A design contest was held for the Garfield Memorial, and Keller won it. Why he chose a Byzantine formulation is anyone's guess. The rest, as they say, is history.
For those interested in learning more about Garfield and the assassination, I highly recommend Candice Millard's book, Destiny of the Republic. If it's any recommendation, the manager of the Garfield Memorial gift shop agreed that it was a great read.
---
Sources
Lake View Cemetery, "The James A. Garfield Memorial," 2023. [Link].
Millard, Candice. Destiny of the Republic: Madness, Medicine, and the Murder of a President (Anchor, 2011).
The White House. "James Garfield: The 20th President of the United States," 2023. [Link].
---